If you are unhappy with the appearance of your teeth, it is important to understand that there are options out there for you to improve your smile. With help from the dentists at Walcott Dental in Ann Arbor, you can significantly transform your smile with the use of dental veneers. Dental veneers are a quick cosmetic option that can solve a number of problems you may be having with your teeth. With the use of dental veneers, Dr. Wayne Walcott or Dr. Brett Walcott can give you beautiful, natural-looking teeth to improve the appearance of your smile for years to come!
What Are Veneers?
Porcelain veneers are thin, ceramic shells that are affixed to teeth to lengthen worn teeth, close gaps, and restore smile symmetry. Unlike dental crowns, veneers cover only the most visible portion of the affected tooth and are designed to look like your natural teeth. Each veneer is custom-designed to fit your individual tooth with the most comfortable, natural-looking results.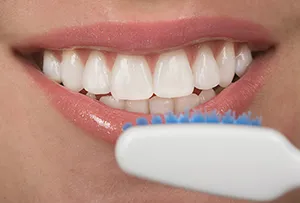 Veneers typically fix teeth that are:
Discolored
Worn down
Chipped or broken
Misaligned, uneven, or irregularly shaped
Filled with gaps
The Procedure Process
Treatment for veneers begins with an impression made from your teeth. The impression is created to allow veneers to be custom-made for the affected teeth, ensuring a comfortable fit. After your veneer is designed, it is color-tinted to match the surrounding teeth and attached to the tooth with a durable cement. Once covered, your damaged tooth is significantly improved and can last decades. Porcelain veneers are an excellent way to address common problems with your teeth, by masking dental blemishes in order to create a beautiful new smile with results that look and feel natural.
Benefits of Dental Veneers
First of all, dental veneers do provide a natural tooth appearance, but they also provide more than that. By placing veneers on your teeth you are also protecting your teeth from further staining. As a group, cosmetic dental bonding materials have the shortcoming of being susceptible to staining and discoloring. This is especially true when they are used in conjunction with individuals who consume tea, coffee, red wine, and tobacco products. A significant advantage of veneers, as opposed to dental bonding, is that a veneer's surface is porcelain. Since porcelain is ceramic, and therefore glass-like, a veneer's porcelain surface will be extremely stain resistant.
Other advantages of improving your smile with veneers include:
Gum tissue tolerates porcelain well
They provide a natural tooth appearance
Porcelain's color can be selected such that it makes dark teeth appear whiter
Offer a conservative approach to changing a tooth's color and shape
There is no reason why you should have to put up with gaps in your teeth, or with teeth that are badly stained, shaped, or crooked. Talk to Dr. Walcott, your Ann Arbor, MI dentist today to see if the placement of a veneer on top of your teeth can correct your dental concerns!
Are you ready to have a smile that you love to show off? Then call Walcott Dental at (734) 994-3700 today to schedule your veneers consultation at our Ann Arbor, MI office!